Frame
Umbrella spokes are made of rectangular aluminium sections of 40x20x2 – 50x30x3 mm. The mast is made of an oval aluminium section of diameter 140 mm in one plane and 100 mm in the other. The aluminium telescope has section dimensions of 70×3 mm. The top plate and the crown are made with U profiles out of aluminium to house the struts. All parts are screwed together and the frame is powder coated (Polyester powder ca. 80 u). All moving parts are made out of steel.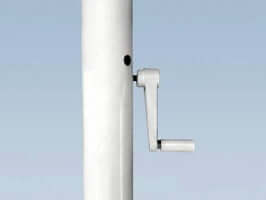 Mechanics
The mast gears are maintenance-free and spindle. The canvas is opened and closed using a hand crank.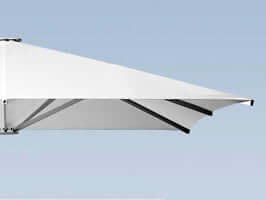 Cover
The cover is made up of individual segments which are secured to the frame by stainless stee hooks at the top and by rust-proof screws at the ends of the spokes. The cover is replaceable and is fade, light and water resistant. It is designed to withstand all weather conditions and can be ordered with valances.
Link to fabrics.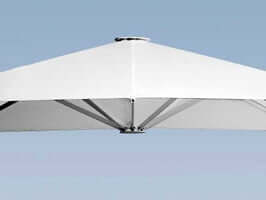 Print
Digital print
Screen print
Dispersion dye print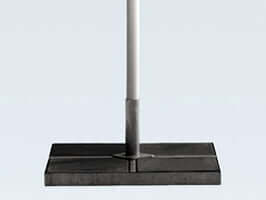 Stands
Core drilling and ram-pin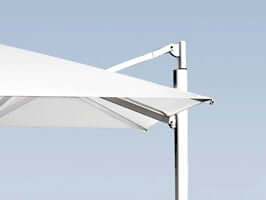 Advantages
Opens and closes by hand
All materials are resistant to the effects of water corrosion
All parts attached by screws can be easily replaced
Mechanics include a telescopic pole which allows the umbrella to open or close over the table
Maintenance-free gear box
Possible with lights and heating
Safely handles winds up to 40 km/h (with the proper bases)
All mechanical and electic construction units are checked by TUV Germany