Technical information
OASIdehor® Column is made of extruded aluminium. The structure is composed of three parts, one main part and two additional parts which come next the main part completing the body of the column.
The glasses are inserted in the column without any pierce or screws. In addition, OASIdehor® Colum has three profiles sealing the unused openings.
THE MODULES CAN BE PLACED AT VARIOUS ANGLES the one from the other (45°-90°-135°-180°). This contributes greatly to the attractiveness of this installation in the evening.
OASIdehor® Column can be used to protect and/or separate, for indoor and outdoor environments such as bars and restaurants, private villas and swimming pools, areas dedicated to sporting activities, terraces, highland chalets, show rooms, partition walls for interiors, open-space areas where privacy is required, shopping centres,partition walls for open-space offices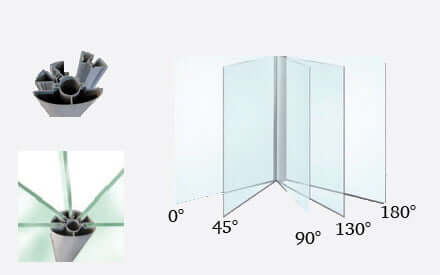 OASIdehor® COLUMN is patented created and made in Italy
| | |
| --- | --- |
| Description | Parametrs |
| Total module height, m | 1,70 m or 1,80 m |
| Maximum distance between two columns | 2.30 m |
| Construction | Sturdy aluminium structure 200×160 mm |
| Range of colours | Standard metallic silver colour, other colours on request (optional) |
| Glass | 8 /10 mm (not included) |
| Operation | Fixed construction |