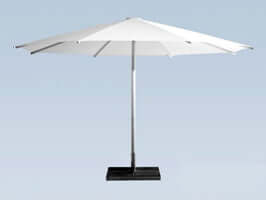 Frame
The spokes are made out of square aluminium bars (40x20x2 mm – 50x20x3 mm). The centre pole has a wounded aluminium profile. The umbrella profile contains a U profile for the attachment of the spokes. The frame is powder coated (polyester powder ca. 80 p).
White RAL 9010
Black RAL 9005
Silver RAL 9006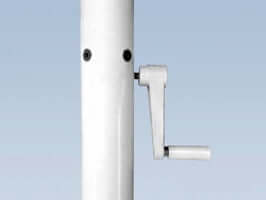 Mechanics
The gearbox and the spindle are contained in the centre pole and can be operated by handle or using a motor.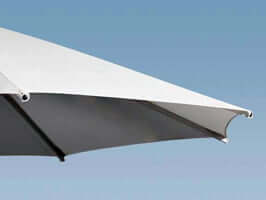 Cover
The cover is made up of individual segments which are screwed to the frame by Sterling Steel hooks at the top and by rust-proof screws at the ends of the spokes. The cover is replaceable and is fade, light and water resistant. It is designed to withstand all weather conditions and can be ordered with valances.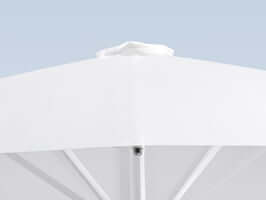 Print
Digital print
Screen print
Dispersion dye print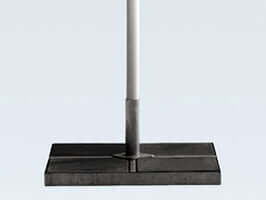 Stands
Frame base with four concrete blocks (200 kg total)
Steel pate (200 kg)
Core drilling and ram-pin
Support plate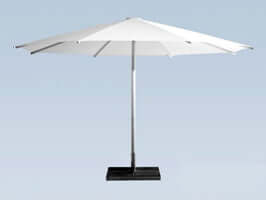 Advantages
Opens and closed by hand
All materials are water and corrosion resistant
All parts attached by screws can be easily replaced
Mechanics include a telescopic pole which allows the umbrella to open or close over the table
Maintenance-free gear box
Possible with lights and heating
Safely handles winds up to 60 km/h (with the proper bases)
All mechanical and electic construction units are checked by TUV Germany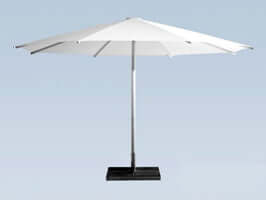 Accessories
Various lighting options
Transport case
Protective sleeve with telescopic pole
Event Platform and MDT Flex-Bar
Wind walls with different heights
Mobile ground flooring with wind walls that withstands any expected gust speeds
Electric motor for opening the umbrella (can also be used for the wind walls)
Multiple umbrellas can be connected with a rain junction (Available only with valances)
Cloth side walls with doors or windows
Cabling is housed within the central mast
Heaters
Speakers